| | |
| --- | --- |
| New post on Kites Without Strings | |
"Each safe landing/on snow-dusted stage/whistled, applauded" –Debbie Okun Hill*
Here on Canada's southern edge, Ms. Frosty has curled her toes and postponed her arrival. I yearn to be outdoors in this oven-warm weather planting bulbs in my neglected wordgardens. Instead, I pace inside my office where I can bear-ly, barely see the bottom of my desk. Event posters, poetic notes accumulate like paper snowflakes! Half-finished manuscripts and projects remain buried beneath more white clutter. I used to be so organized, well, before the birth of my first book, before I started blogging, before social media took over.
Only in Canada! A snowstorm outside Jasper, Alberta during the Great Canadian PoeTrain Tour's National Poetry Month Celebration, April 2015!
Today, a snatched photo (an image of a bear) captured during a freak snowstorm last April outside Jasper, Alberta reminds me of the Great Canadian PoeTrain Tour and other travel stories that could be told if I wasn't still travelling, if I wasn't juggling other writing projects, if I wasn't eating or sleeping.
IN WINDSOR:
Thursday, November 12, 2015 in Windsor, Ontario, Canada.
Often, a writer's journey takes many detours and like the weather, you can either fight it or have fun and roll like a snowball. Tomorrow I'm off on another adventure. Hope to lasso the sun but will bring an umbrella just in case. Wish me luck!
In the meantime, below are some notices and posters that friends have shared with me. More blogs, more stories, and more poems I'd like to write. Mark your calendars and if you are a poetry fan wandering through Canada, I hope you will support some of these poetic events.
IN WINNIPEG, MANITOBA:
The Lake Winnipeg Writers' Group (LWWG) will launch

Voices, Volume 15

Number

2

,

Sunday, November 15, 2 pm at McNally Robinson Booksellers, Winnipeg. Launch detailshere and LWWG info here.
IN LONDON, CANADA:
POETRY LONDON
presents Victoria's
Karen Enns
and
Nick Thran
from Calgary.
Wednesday, November 18
, 167 Wortley Rd., London, ON Pre-reading workshop at 6:30pm The reading begins at 7:30pm Admission is free. Addition info
here.
.
IN TORONTO:
Sarnia poet James Deahl will be in Toronto Wednesday, November 18, 2015 to launch his latest book
IN GIMLI, MANITOBA: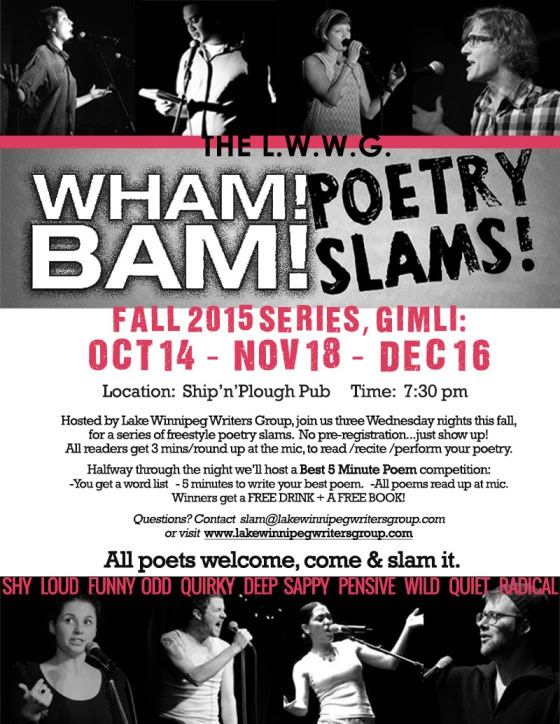 November 18, 2015 in Gimli, Manitoba
*Quote from a new manuscript in progress. Used with permission by the author ©Debbie Okun Hill, 2015